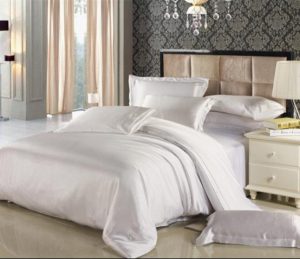 Here is the silk bedding set, including duvet cover, flat sheet, fitted sheet, and pillowcases. All these pieces are made of 19 momme weight pure mulberry silk. They are extremely soft and smooth to give you a much more luxurious life.
In addition, silk contains 18 kinds of amino acids which have many benefits to human body and skin. Lay your head on these silky pillow covers, you will be surprised to find less wrinkles and facial lines in the morning.  And your hair will be much more glossy!  I bet you would like to get that result indeed.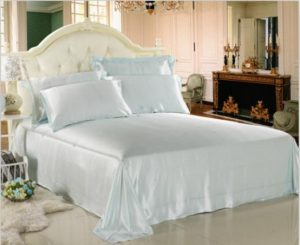 Right is the flat sheet and pillowcases in pale turquoise color. This Picture is taken from the real home silk bedding. 100% mulberry silk quality is guaranteed, and the drape of flat sheet is really excellent. The touching feeling of silk flat sheet and pillowcases is quite wonderful and fantastic!
No matter it is winter or summer, laying on this set of bedding, is really a happy enjoyment!
Lilysilk classifies pillowcases into two styles, one is in terse style that means no edge, the other one is in oxford style, this pillow cover has a beautiful border. You can choose any one style as you like. Both of them are made of the same pure mulberry silk. Owing to the features of real silk, these pillowcases not only protect your pillows from stain and have a much longer life span, but also afford you a much more ruddy and creamy face skin and more glossy hair. Though a little experience, it worths. You can not buy a much more valuable pillow case.
Here are pillow cases in oxford style. The beautiful border add some luxury into your bed. We lilysilk employs a zip closure on the back, but you can not see the zip directly.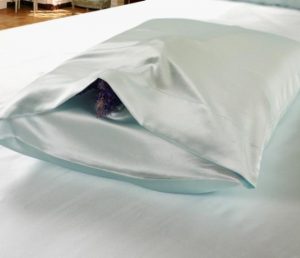 This is simple and clean terse pillow covers. Though it dose not have border, cozyness and comfort can not be reduced. This style pillow cover we use envelope seal to put into your pillows. In order to let you see clearly, we put a flower to enlarge the closure.
What's more, Lilysilk has an affordable price compared to other silk pillowcases. In order to celebrate the new website online, we have a big sale at the beginning of April. Chances are not waiting for you! Just take it and reward yourself!