Good Night Sleep Matters 
Sleeping well at night is the thing everyone desires in their life. Apart from the coziness of bedding, quietness of environment and peace of mind, a good choice for nightwear is also an essential factor that matters the quality of sleep.


Made from 100% natural mulberry silk, the sleepwear products in Lilysilk are incomparably soft and smooth, like your second skin. The lightweight and breathable fabric could nourish your body the whole night, protecting you from the allergy and over-drying. Most of the customers, purchasing our silk pajamas, nightgowns or night robes, have noticed their skin become smoother and ruddier.
1. Currently we have silk sleepwear products: silk pajamas for both men and women, silk robes for both men, silk nightgowns for women, silk nightgown & robes set, silk underwear, silk tops and silk pants.
2. Various styles of silk sleepwear provide you a great selection of different kinds of necklines, sleeves, length and pockets.
3. Various colors and sizes range are available on our website for you to choose from.
4. Plus size silk pajamas, robes, nightgowns and nightgown & robe sets for women have been added to our production line which enlarge our size selection and suit more people.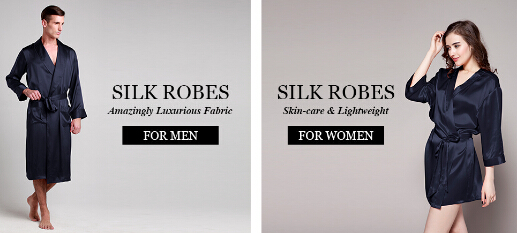 1. Silk thongs and silk panties are available on our website. You can choose the style you like.
2. Made of 100% mulberry silk, breathable and comfortable, it is of a variety of styles, patterns and beautiful colors.
3. Strict care instructions: Professional dry cleaning recommended. Specialized silk detergents required if hand washing. Handwash in lukewarm water (~30℃). Do not bleach, do not place in direct sunlight. Air dry. Cool iron only.


New Arrivals!
Based on the suggestion given by our customers, we are trying our best to expand the production line and introduce new patterns to our series. New arrivals of nightwear will be online this week. The various designs and patterns could satisfy customers, having different requirements for what they expect to wear at night.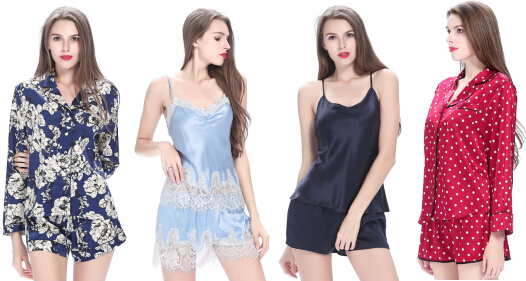 So shop now and treat yourself and your beloved ones with the exquisitely luxurious and gorgeous silk sleepwear and underwear on Lilysilk.