Sleep is of great importance for everyone, especially infants and young children. The length of bedtime and the quality of sleep have a direct impact on the baby's physical growth and mental development. Assuring a good night's sleep for your baby, you can enhance his or her mental and physical development. Because of that, as parents, you need pay enough attention to your baby's sleep to make sure your baby has a secure and sweet dream.
Here comes the question:what are parents supposed to do for their baby's sweet sleep and dream? Here are some alternative things you can do:
Select Suitable and Helping Crib Bedding Sets
Sleeping on healthy and comfortable bedding sets makes good sleep. For example, considering baby's soft skin, silk bedding sheets are preferred due to its softness and smoothness. If you are suffering from insomnia at night, silk bedding sets are a good choice to help ease insomnia, to some extent. Silk pajamas for young children are one of the best choices because of their smoothness and softness.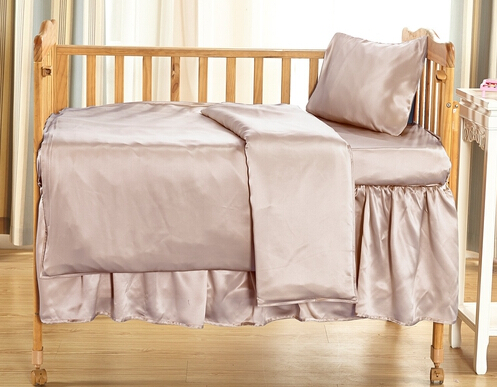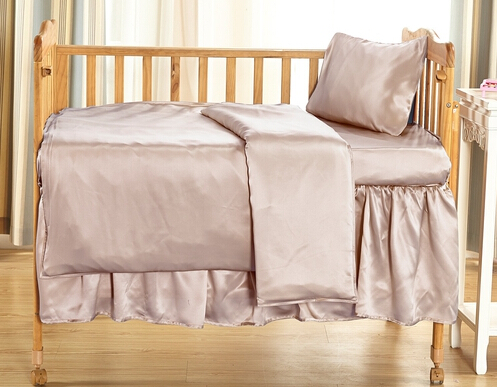 Create Quiet Sleep Environment
Baby's bedroom should have curtains which provide good shading of light, in order not to affect the baby sleep quality. Do not let you baby become too excited before going to bed, and do not speak loudly or watch TV or listen to music loudly.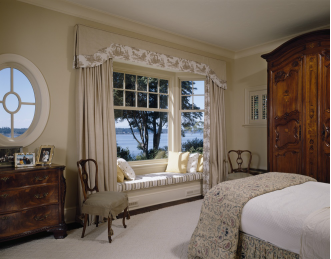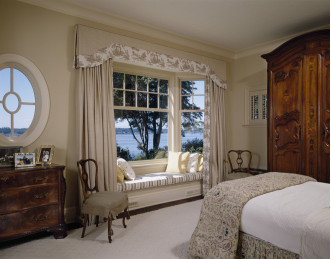 Give Your Baby a "Transitional Object"
This " transitional object ", for example, a blanket, a stuffed animal, is likely to become the essential object to make your baby fall asleep easily. To realize this, you should put it with the baby's mother for a little while, then it will be infected with "Mom smell", which can make baby feel secure and sleep well.
Infant Massage
Insist on doing infant massage, you can cultivate intimacy between mother and child through skin contact. As a result, you can let the baby feel safe, relaxed and stable, which is beneficial to improve the sleep quality effectively.
I suggest that you should be wise enough to choose silk bedding sets to let your sweet baby have a sweet sleep and enjoy a sweet dream.