Dear customer,
Spring is coming, it is time to change your bedding and wear pajamas set lounging at home. Housewives, ladies and girls would like to change the best bedding for herself and for families. So, in order to make you enjoy luxurious life and be healthy against virus spring, we Lilysilk offer a sale for you on the following items:
1. Silk Bedding Order Over $ 350, 8% off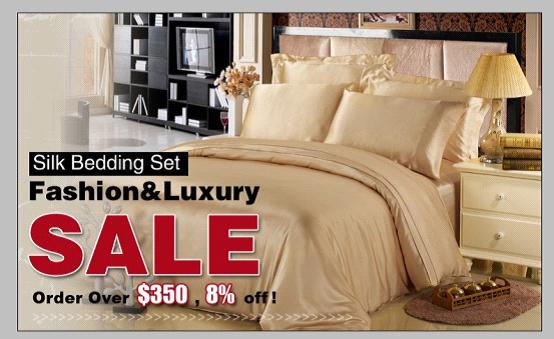 Our pure and high quality silk bedding set is on sale, which is chosen from 19 momme mulberry silk. Here, if your oder is over 350 dollars, we will make a 8% off discount for you. This promotion is only for silk bedding. Our silk pajamas set has another big sale! Silk is cool and healthy for you to spend spring and the following summer. Healthy enough, you can get much care and protect from the power of nature silk. Our silk sheets set is designed for your skin and hair, let them much more smooth.
2.  10% off silk pajamas set

We offer a wide range of silk pajamas including silk pajamas set, robes, nightgowns, nightshirts for men and women, available in various colors and sizes.  Wearing them on, you will have a special feeling of spring and summer. Have a try?!
3. Hot Sales: Beauty Piece, 30% off
Here, we choose silk duvet cover, flat sheet, fitted sheet for you. These pieces here only have one or two pieces in stock. So, buy in a hurry! Chance does not wait for you, do not miss it.
4. Surprise-Checking your basket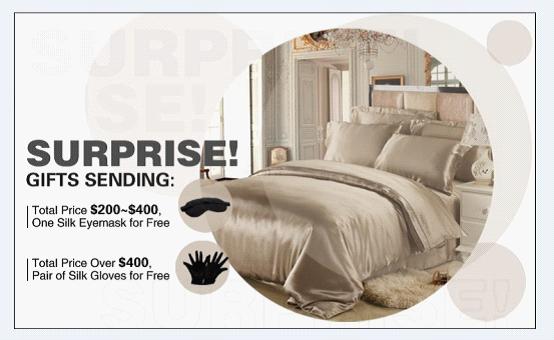 If you place a large order at our website, you will get a big surprise for you. No matter which sales and discounts you have already enjoyed, only if your total price is between 200and 400dollars, you will get a free gift. If it is between 401 and 800 dollars, another free gifts for you. But if you buy our products over 800 dollars, it is really a big surprise when you unfold the parcel.
5. Facebook Coupon Code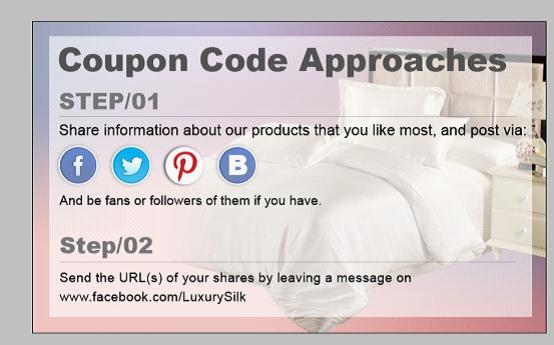 Get coupon code for much deduction. Saving you much more!
All our products are high quality in 19 momme mulberry silk. And we offer free shipping. This Crazy Sale starts from April 21st. Hurry buy, do not let chance get away.