The increasing demand for a quality sleep stimulates people to look for quality beddings for themselves, such as good comforters or sheets. Today we are going to introduce to you several tips for choosing high-quality and suitable Silk Comforters.
What Is Silk Comforters?
Silk comforter refers to those comforters that are made of 100% silk floss, it
normally comes into 2 types, one is with silk case/cove, the other is cotton
case.
Silk Shell or Cotton Shell?
When it comes to silk comforters you may come across those terms: silk comforter with silk shell or silk comforter with cotton shell. What are those and which is better?
In fact, both of them are filled with 100% silk. The biggest difference lies in the case/cover of them.
The silk comforter with silk shell, or called silk-covered comforter is the
one with silk case covered on the silk floss, in comparison, the outer shell of
silk comforter with cotton shell, also called cotton-covered comforter, is made of cotton.
You can enjoy silk benefits from both of them. You can choose cotton-covered silk comforter if price is a big consideration you have to take or you do not want the comforter move around a lot on your bed. Silk-covered silk comforter would be the best choice if you would like to experience a completely silky dream and price is not a problem to you.
Handmade or Machine?
I would definitely recommend handmade silk comforter for the following reasons.
Handmade silk comforter are filled using long fiber Silk. The silk
floss are
2  Layered in a grid pattern.
2  Tacked, not boxed stitched.
2  No lumps caused by silk filling clumping up.
Machine
silk comforters are filled with short fibers that are:
2  Stuffed, not layered into a
casing.
2  Box stitched, which damages
the silk fiber and creates cold spots throughout the comforter, undermining a
silk comforter's heat regulating ability.
Do I Need A Cover For My Silk
Comforter?
Yes, absolutely. You should always protect
your comforter with a cover to prevent dust or damage caused by unexpected
factors.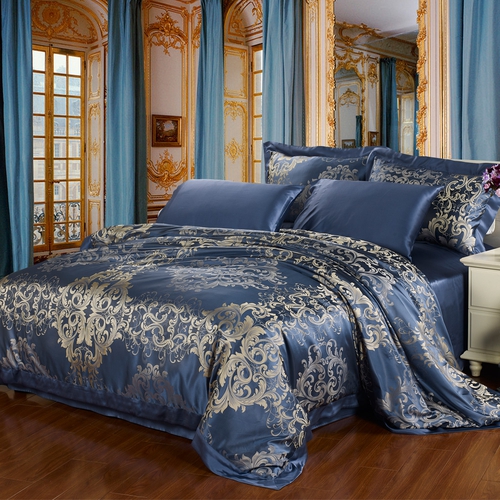 What's The Best Silk Type of Silk
Comforters?
100% silk is always your first
choice! Especially for the silk floss. Only the cocoons of silkworm can
be unraveled to make spindles of single-strand silk threads, forming
long-stranded silk fiber. Our products, unless stated otherwise on the product
page, are made of 100% pure and natural long fiber silk cultivated
from the best silk farms in China.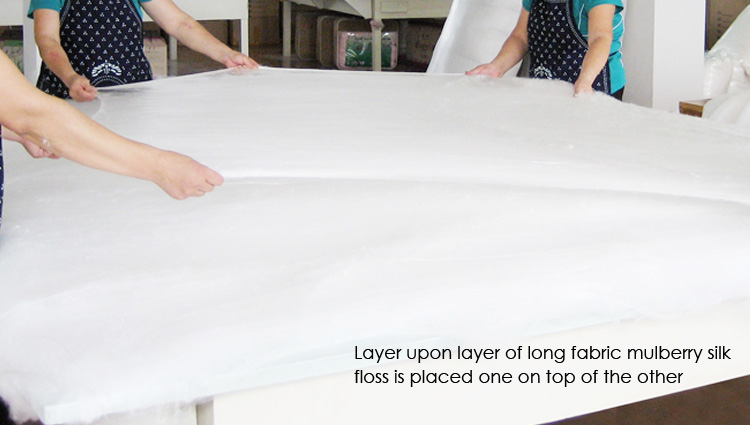 Summer Weight Silk Comforter Or All
Season One?
Firstly, the difference between the summer comforter and all season one lies in weight and thickness. Summer comforter is lighter and thinner than all season one, suitable for summer days. All season comforter is more suitable for fall and winter.
When it comes to choosing suitable silk comforters, the most important factor should be considered is the usual temperature in your bedroom.
If your bedroom is not A/C'd then obviously this temperature could fluctuate with season, so it's best if you choose the season in which you would like to sleep in the silk comforter first. There is a general guideline, however: For a bedroom at 68F/20C, a queen size comforter weighing approximately 0.9-1kg/2lb should best suit your needs. With every 3C/6F degree decrease, add 0.3-0.5kg/0.6-0.9lb to the weight of the comforter. So if you are expecting to sleep in a bedroom with a temperature of 14C/57F in the fall/winter season, the comforter should weigh approximately 1.5-2kg/3-4lb. Of course, this is just a rough estimate and only used as a reference.
OEKO-Certified?
Yes! The OEKO certification is the most
trustable authority for quality inspection in home and textile field. The test
label therefore provides an important decision-making tool for purchasing
textiles.
Now, Lilysilk is proud to inform our customers that all our silk bedding fabrics are certified by OEKO-Tex, completely chemical-free, no harmful substance added before and during the process of manufacture. Please feel assure to choose and purchase, in addition, if you still have doubts about the authenticity of our silk, get free swatches from us, burn it. Besides, we provide 45-day no-risk free return service if you are not completely satisfied with our products. Can you find any other reasons of not buying silk products from us?
Do you gain a better understanding of silk comforter after the introduction? I believe you do! LOL.
Lilysilk is doing its best to adapt an old craftsmanship to modern needs, which is to spread silk products to the whole
world and it is indeed among the best-known silk brands online, no matter in quality, price, style and service. Make an investment to silk, savor the
enjoyment & pleasure silk brings to you.