Blazers are extremely popular for an outstanding formal look, but women's blazers aren't just for the office. Cutaway, classic and boyfriend blazers give any outfit a sleek edge.
It's time for you to prep up your look owning blazers. Yes, this style is a versatile closet piece that has the charm and the ability to alter your look. It suits the occasions and depending upon the style, you can sport this piece in several ways. Continuing further, we have piled up a guide for you that will help you know the types of silk blazer that you can work out with your outfits. Check it out.

1. Menswear-Inspired Silk Liner Blaz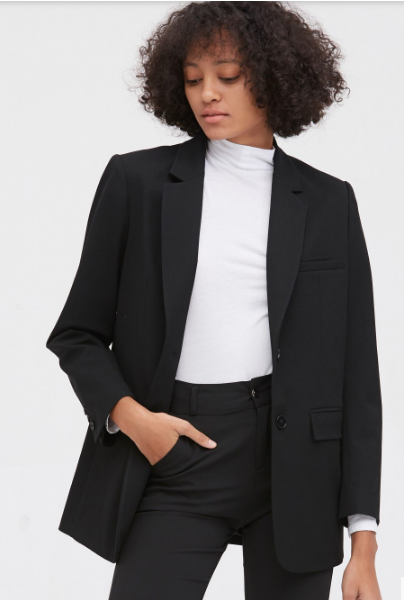 The menswear-Inspired silk liner blazer tends to be a dash baggier, giving it a borrowed look. This option leaves you with the luxury of not worrying about your blazer being perfectly fitted to your body. The blazer is designed to be an oversized fit for a relaxed feel according to comfort. The liner is made of mulberry silk, which is 100% natural, odorless and hypoallergenic, lightweight and breathable. It is a great call for causal wardrobe and is in vogue to lay your hands on.
Click here for our menswear-inspired Silk liner blazer.
2. Double-breasted Silk Liner Blazer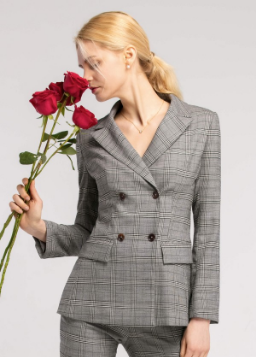 A double-breasted silk liner blazer is a must-have if you are a big-time blazer fan, it gives an extremely classic, sleek and stylish formal look. Don't worry you can carry off a double-breasted blazer made up of lightweight and breathable silk fabric like a queen. If you prefer for a slim fit blazer, this double-breasted style silk liner blazer will definitely be a good choice as it gives you a sharp look and makes you stand out in the crowd!
Click here for our V Neck Button Front Silk Liner Blazer.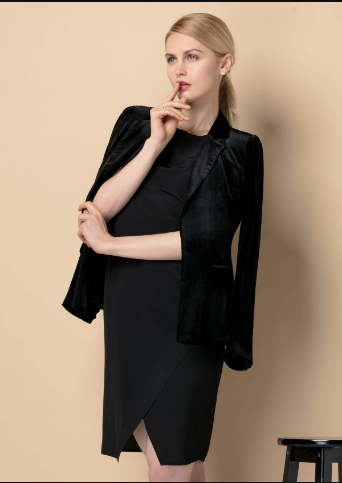 Velvet is the epitome of luxury. The most expensive type is silk velvet, originally reserved for royalty. Our silk velvet blazer with one button comes with a tailored look. The style looks quite structured and is the one you should choose for formal settings. The fitted blazers make every day better and are an add on to a boring attire.
Click here for our Waist Flattering Silk Velvet Blazer.
Here are a few ways suggested to wear a blazer:
1. Style up Blazer with Formal Trousers:
This is one of the traditional way of wearing the blazer- team it with your formal trousers and blouse and brings a powerful businesswoman look. Complete the look with a high ponytail, silver jewelry, and pumps.
2. Paring Blazer with Ankle Length Pants:
Does your workplace allow you to wear ankle length pants? Then doll up for the Fridays in this dapper outfit. Pair your ankle length trousers with a button down shirt and complete the look with khaki blazers- it adds a business look.
3. Pair Blazer with Denim Jeans
Bored of glamming yourself in skinny denim and blouse, then why not bring an ultra chic look by pairing an uber-cool blazer with your outfit? Don't forget to carry a posh clutch and do wear nude pumps. Add fun by carrying an envelope clutch and wearing pumps.
4. Blazer with Formal Skirt:
Make your workwear even more interesting by styling your A-line skirt and ruffled blouse with a matching suede blazer. This look will not only give you a professional look but even show the feminine side of yours. A pop of lipstick, stylish hairdo, high heels will bring a confident look.
5. Blazer with Dress:
When in doubt, wear a black blazer. Yes, style your bohemian dress with a fabulous looking blazer and you are good to go for girls brunch parties, evening get-togethers, and movie dates. Shine your ensemble with bling jewelry and suede pumps.
Tip: Pick a structured blazer with your one piece as it will add a chicness.
6. Accessories Blazer for Winter look:
Bookmark this style for your winter corporate look. Just a piece of a silk scarf and blazer will change your normal corporate look to the sophisticated look. Enter your workplace and we bet your colleagues will take cues from your fashionable look.