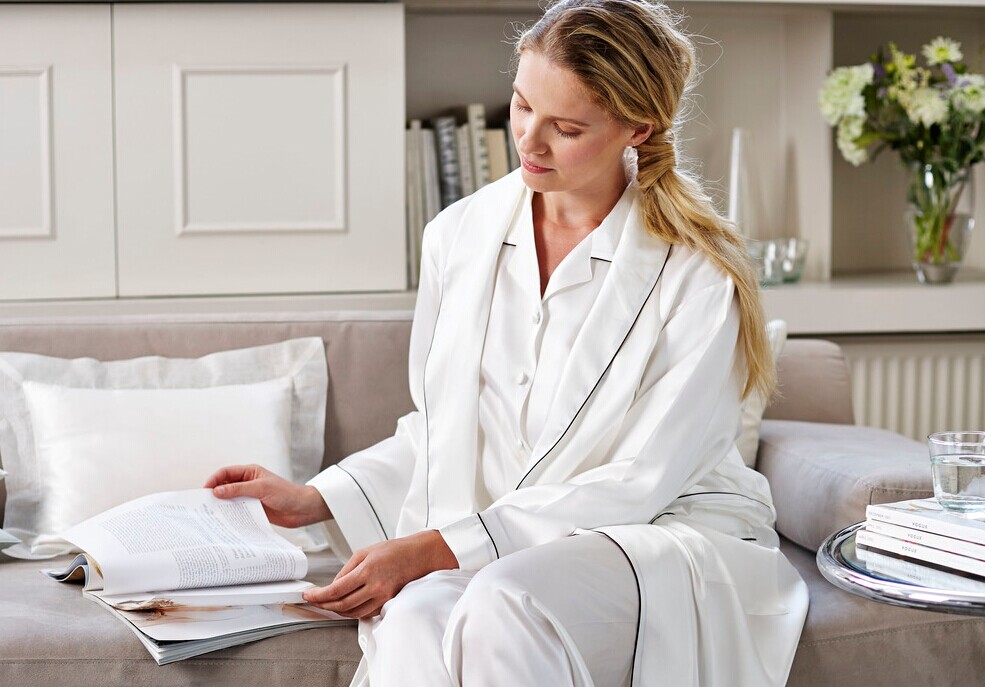 Silk, also known as mulberry silk, contains
over 18 amino acid and natural protein which are precious nutrition to our
body. Therefore, silk clothes, with soft and light properties, are more and
more popular recently. As a consequence, more and more silk garment are sold to
customers by suppliers who always clarify their silk clothes are the most
authentic silk. However, consumers are not sure whether the silk pajamas they
bought are pure silk material or not. Here I give you some practical
suggestions.
Firstly, there are more than 9 kinds of
silk material, according to silk experts, such as crepe de Chine, heavy crepe,
georgette and crepe satin plain. Prices vary with different manufacture
procedure and craftsmanship.
Normally, crepe de Chine are more colorful
and wrinkle-resistant, shaped by heat, with firm weave. Heavy crepe drapes well
and resists wrinkle better. Georgette excels in soft sheen. Crepe satin plain
are more luxury and smooth. Stretch satin is a new-launched silk material
including 5% -10% spandex other than the mulberry silk, which is more elastic
and doesn't shrink easily. Tussah silk has more strong heat resistance but
shrink easily. Mulberry silk is the most authentic silk which is amazingly
soft, smooth and breathable.
In addition to the material factor, brand
should be taken into consideration when selecting pure silk pajamas. Good silk
brand suppliers usually adopt advanced manufacture procedure with environment-friendly
colorant, hence, silk garments made by excellent brand are more reliable in
quality as well as style with their delicate and fashionable design. It is
well-known that famous apparel brand always invite good designers to design
fashionable and unique clothes. As a consequence, silk clothes sold by famous
brand are always more expensive. I can name a few nice brand, such as lilysilk
which only sells 100% mulberry silk ,  ellesilk selling silk products with less
choices on style and category, etc.
Thirdly, when choosing silk pajamas, it's
better to select loose ones because putting on too tight silk pajamas would
cause the deformation of silk material. Normally, it would be suitable to buy
silk pajamas in size larger than the usual dresses about 2-4 inches. In case of
damaging the natural protein fiber, one should avoid tough friction when
wearing silk pajamas.
Silk pajamas should not be soaked in water
for a long time with temperature lower than 30 degree. Hand wash is highly
recommended by experts. Never use chemical detergent or soap to wash silk
pajamas, neutral shampoo and soak can be used if required. Do not expose your
silk pajamas to direct sunlight for a long time. Hang your silk sleepwear in
some air-circulated area if you don't wear them.
Still to come
Monica